Xiamen Takam Machinery Co., Ltd
Name:Xiamen Takam Machinery Co., Ltd
Position:International Sales Manager
E-Mail:info@takam.com.cn
TEL:+86-5927896828
Address:Tongji North Street No260, Tong'an District, Xiamen, China 361100
DBM-5030 CNC Gantry Type Machine Center
DBM-5030 CNC Gantry Type Machine Center
Model NO. DBM-5030
Accept Min order:No
Product Description
DBM - Series
Since 1989, Takam machinery has been providing solutions to every industrial need. With larger and faster-moving machines that currently are in high demand. Takam once again provide a soltuion to the problem. Introducing the DBM-Series the moving column machine center, this machine was created for the high speed machining requirements and needs that many top leading companies look for in a machine.
High Strength Z & Y Construction
Y-Axis was designed with two linear guide ways and one box way to create a triple strength construction, which gives the machine high accuracy, and proved a stable surface for high speed travel.
High Accuracy Heavy Duty Ball Screw
The DBM-Series high speed gantry type double column machining center was designed with heavy duty ball screw ranging from 50 mm to 80 mm in diameter.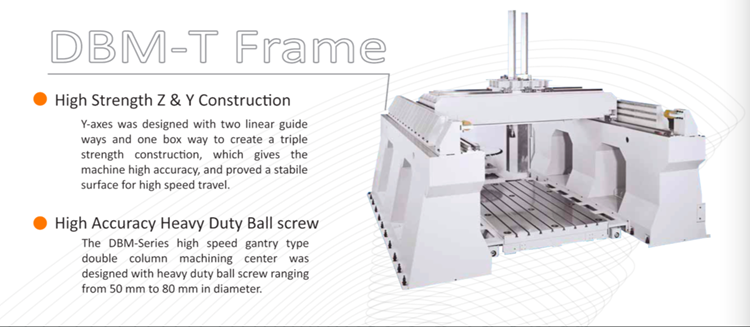 model
subject

DBM-5030

X-Axis (mm)

5,000

Y-Axis (mm)

2,000-3,000

Z-Axis (mm)

1,000

Spindle Nose to Work Table (mm)

200-1,200

Bridge Width(Include Slash Cover,mm)

2,300-3,300

Work table Length (mm)

5,000

Work tableWidth (mm)

2,800

Work table Max load (kg/

㎡)

2,500

Spindle Motor(Cont,per 30min) (kw(hp))

22/26(30/35)

Spindle Speed (rpm)

10-12,000

Spindle Taper

BT40/HSK-63A

Tool Changer (NO.)

32

Tool Max. Diameter (mm)

127/215