Xiamen Takam Machinery Co., Ltd
Name:Xiamen Takam Machinery Co., Ltd
Position:International Sales Manager
E-Mail:info@takam.com.cn
TEL:+86-5927896828
Address:Tongji North Street No260, Tong'an District, Xiamen, China 361100
TL-46 High Performance Slant Bed CNC Lathe
TL-46 High Performance Slant Bed CNC Lathe
Model NO. TL-46
Accept Min order:No
Product Description
TAKAM CNC LATHE TL-SERIES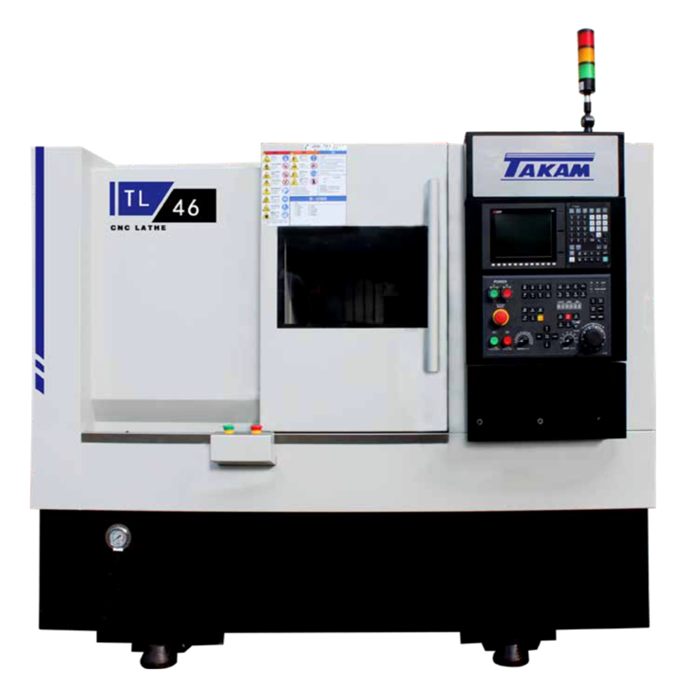 The TL-Series (CNC Lathe) is designed with a slant bed machine structure,when undergoing the machining process it can show the stability of the machine due to this structure of design. This design also enables the operator to be closer to the work piece and with long hours of operation it decreases the tiredness and increase productivity. This Lathe combine high horse power, high rigidity and rapid machining speciality to provide the user with high productivity machining ability.
The turret with gang-type tooling device can eliminate the tool exchange time and improve the working efficiency.
The 45- degree inclined working bed is designed with rigid mechanical construction and easy chip removal. This design resolved the difficulty of the chip removal because of the combination of gang type and traditional turret.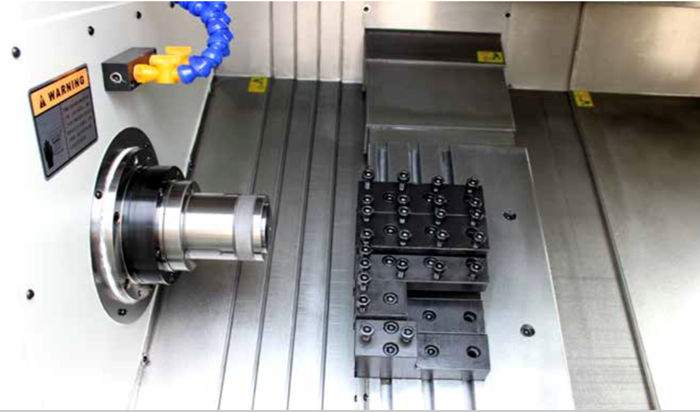 This machine uses linear guideway which can reduce friction, resistance, and effects of temperature change during axial quick movement. Also, it can result in high precision of machined products and high capacity of machining output.
model
subject

TL-46

X/Z Axis Travel(mm)

950*310

Swing Over Bed (mm)

Φ400

Swing Over Size (mm)

Φ120

Max Machining Diameter(disc) (mm)

 

Max Machining Diameter(axis) (mm)

Φ42

Max Maching Length (mm)

200

Distant Between Centres (mm)

 

Power Chunk Size (in)

 

Max Diameter Of Bar Bore (mm)

Φ45

Diameter Of Spindle Bore (mm)

Φ56

Spindle Head Type

A2-5

Spindle RPM (rpm)

5,000

Spindle motor (kw/hp)

5.5

Spindle Accuracy (mm)

0.004

Rapid Traverse (X/Z Axis) (m/min)

30/30

Axis Servo motor

(

X/Z Axis

)

(kw)

1.5/1.5

Number Of Tools (units)

gang tool/8

Position accuracy (mm)±

0.005

Repeatability accuracy (mm)

0.005

Turning Tool Size (mm)

20*20

Boring Tool Size (mm)

Φ20(knife towerΦ25)

Tailstock Travel (mm)

 

Quill Travel (mm)

 

Quill Diameter (mm)

 

Quill Taper (mt)

 

Quill Activation

 

Machine Weight (kg)

2,000

Exterior size(L×W×H) (mm)

2,100*1,380*1,930